Technology
This multipurpose TV will see you through the long, cold winter
The M7 had all those features, too, but the more obscure ones like DeX, Office 365 and remote terminal ran so poorly, they were barely worth using.
This time around, I'm pleased to say all those features work much, much better.
I'm writing this paragraph into my MacBook using my M8's remote terminal feature, as it happens, and while the experience is nowhere near as good as it would be if the MacBook were plugged directly into the screen via a USB-C cable, it's not terrible.
You could work like this in the unlikely event that you had to. For instance, if it was so cold downstairs you didn't even want to race down, get your laptop, and bring it back upstairs with you.
The MacBook's display, beaming to my M8 over Wi-Fi, is not nearly as sharp as it would be with a direct connection, but the MacBook itself is fairly responsive to the mouse and keyboard, perhaps because it happens to be on the same network , only in a much colder room.
My Microsoft Surface Laptop, also downstairs in the cold, should respond better, but oddly enough doesn't. The text isn't as sharp, and the mouse and keyboard have more lag.
Whether M8's remote terminal feature will allow you to leave your PC at the office and work on it from home is anybody's guess. It depends on your corporate security.
Similarly improved compared with the M7 is the M8's Office 356 feature, which requires only a Wi-Fi connection, a mouse and a keyboard. Once again, it's good enough if you find yourself stuck without a phone or PC, but not so good you'd use it as your first choice. There's still a bit of keyboard lag, but it's not nearly as bad as on the M7.
If you've been reading Digital Life diligently, it might occur to you that the Samsung Smart Display M8 is a lot like the Apple Studio Display we reviewed a few weeks ago. Like the Studio, it has speakers, a webcam and microphone, meaning all you need to create a desktop set-up is to plug in your laptop.
The difference is the $1199 Samsung wants for the M8 is an absolute bargain compared with the $2499 to $3599 Apple is asking for the Studio Display, all the more so considering the M8 is significantly bigger and has many more features.
(The Studio Display has a better, sharper screen, and much better speakers, but other than that we prefer the Samsung Smart Monitor M8 in just about every respect. The remote-controlled TV feature alone makes it a better choice if you're living in a confined space, as I suppose I will be all winter, or if you're looking for a multipurpose device for your beach shack or, more aptly given the weather, your ski chalet.)
As with the Apple Studio, the M8's webcam is perhaps the weakest part of the whole package, ranging from much worse to much better than the Studio webcam, depending on which laptop and apps you're running.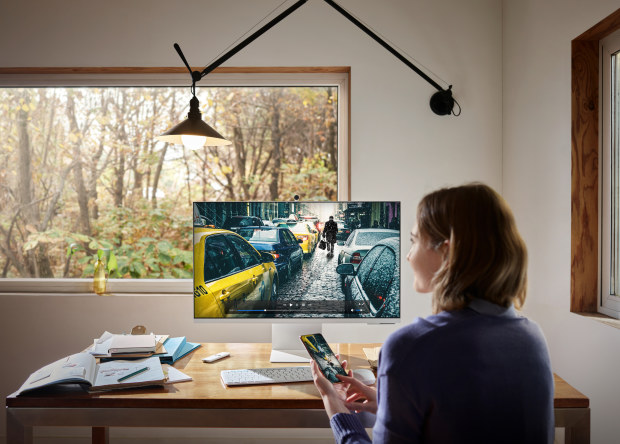 Attached to our MacBook (directly, this time: I've run downstairs to get it), the webcam on the M8 is pretty awful on Google Meet, and doesn't work at all in Zoom or in native MacOS apps like Photobooth. Attached to our Surface Studio Laptop (grabbed at the same time so as not to lose too much body heat), the webcam is great on Google Meet but lousy on apps like Zoom and Microsoft Teams.
It's weird, I have to say, although it might be something that can easily be remedied, perhaps by Samsung providing better drivers to Apple and Microsoft to get the most out of its camera.
One big difference between the two displays is Apple has its power supply unit built into the screen, while the Samsung has an external power brick.
I'm not usually a fan of the latter, but I must say I have a good feeling about my M8's power supply. A warm feeling, you might say. With my shoes off and my toes wrapped around it, it's the only thing standing between me working in the attic or having to work from bed.
SAMSUNG SMART MONITOR M8
Likes Cheaper, bigger and more fully featured than an Apple Studio Display.
Dislikes Webcam works poorly or not at all in some video apps.
Price $1199.