Business
Great Western Hotel Melbourne closing for office development
The plan is now spread over five existing properties at the corner of King and Little Bourke streets, including the Great Western site.
The City of Melbourne has issued a permit for demolition.
However, as it would have over 25,000 square meters of floor area, the go-ahead for the new building must be given by Minister for Planning Richard Wynne, who is yet to sign off on the application.
Argo Group managing director Nick Argyrou said the facade of the Great Western Hotel would remain, however, a new, three-level pub will be built — in the old pub's footprint, but bigger.
Argyrou said he was excited about bringing the hotel back to life in some form.
Little, the current publican, said the plans for the new building looked "amazing", although, like many patrons, he's sad to see the former pub close.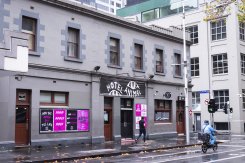 "There's a lot of people who are really sad, and a little angry, that their watering hole is disappearing," he said.
Remnants of the pub's past include a cellar with an operating well and only male toilets on the ground floor (the women's are upstairs) from the days when only men were allowed in the pub.
Victoria University history lecturer Chris McConville said it was sad to see so many of these corner pubs in the city center closing.
He said it robbed the city of meeting places that were more welcoming than, say, restaurants that kicked out patrons after an hour or two, or sandwich shops.
But McConville said land values ​​in inner Melbourne were high and high-rise buildings were more attractive in generating income for developers than retaining a two-storey pub.
He said pub licenses were no longer "a monopoly to sell alcohol" with bottle shops and small bars — which could be cheaper to run than older, bigger pubs — springing up all over the city.
McConville said COVID-19 lockdowns put a lot of pressure on the hospitality industry and some owners saw it as an opportunity to sell.
Tristan Davies, president of Melbourne Heritage Action, said it was disappointing that the Great Western wasn't heritage-listed and that it was the kind of historic pub whose numbers are dwindling in the CBD.
But it was good to hear that a pub "in some regard" would be built under the redevelopment, he said.
Felicity Watson, the National Trust's Victorian executive manager of advocacy, said the Great Western Hotel had been operating since the gold rush and historic pubs needed to be protected.
"While a new pub has been included in the proposed redevelopment, facadism is unacceptable," she said.
"We have been pleased to support new policies introduced by the City of Melbourne in recent years to discourage this practice [facadism]which have sadly come too late to save this building."
Charles Sowerwine, chair of the Royal Historical Society of Victoria's heritage committee, said: "The RHSV strongly condemns any plan to develop the site at the expense of this irreplaceable part of our history."
"The Great Western was built in 1864, and virtually unaltered, it is a witness to Melbourne before the high Victorian boom, and thus even more valuable today."
The Morninging Edition newsletter is our guide to the day's most important and interesting stories, analysis and insights. Sign up here.